Make easy, fun, and adorable Teenage Mutant Ninja Turtles Cupcakes using your favorite cupcakes and buttercream. Turtle Power!
Teenage Mutant Ninja Turtles Cupcakes
Every Fall we have "Birthday season" at our house (Have I mentioned that before?... I probably have.  Birthday season makes me lose my mind a little bit.). Which essentially means that I have to do 4 birthday cakes, and 3 batches of school treats, all in a 6 week span.  It's crazy.  So I told the kids that we were going to do simple school treats this year so that I could retain more of my sanity.
Now, here I thought that meant we would just be picking out cake flavors, making cupcakes from a box mix, and piping some buttercream on top to make it look like I was putting in effort.  But alas, my boys had other ideas.  The Boss requested Toothless Cupcakes (You can check those out here), and Baby Boy insisted on Teenage Mutant Turtles Cupcakes.
So I came up with a simple design for Teenage Mutant Ninja Turtles Cupcakes to make that happen and still be able to keep my sanity (a little bit, anyway).
(And yes, those are box mix cupcakes, in case you were wondering...)
Supplies to Make Your Own Teenage Mutant Ninja Turtles Cupcakes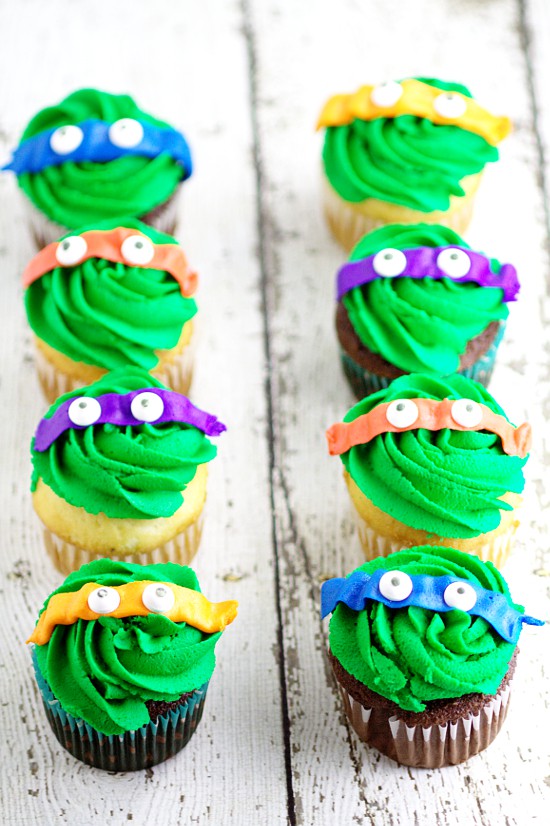 Directions for Teenage Mutant Ninja Turtles Cupcakes
1. Scoop about ½ cup frosting into each of 4 separate bowls.  Color the frosting for masks using red, orange, blue, and purple food coloring
.  Mix well to combine. Put a coupler
on each of 4 bags, and add the colored frosting in each of the bags, one color per bag.
2.  Add the bright green food coloring
to the remaining frosting, and mix well to combine. Place a 1M or 2D Cake Decorating Tip
in a decorating bag.  Then add as much green frosting to the bag as you think you can handle at one time.
3.  Frost the entire cupcake using the green frosting.  Start on an outside edge and spiral your way to the center to cover the entire cupcake.  When you're finished it should look kind of like swirled soft-serve ice cream.
4.  Place the 104 Petal decorating tip
onto one of the frosting bags for the masks with the coupler
.  Pipe straight across like a ribbon, repeating for about ¼ of the cupcakes.  Rinse the tip and repeat this step for the remaining mask colors.
5.  Place 2 edible eyes
on top of each cupcake on the mask part.
Easy, quick, and fun Teenage Mutant Ninja Turtles Cupcakes perfect for your party! Enjoy!
Did you like this Teenage Mutant Ninja Turtles Cupcakes tutorial? Find more on my Cakes & Cupcakes, Party Cakes, and Party Ideas boards on Pinterest!
If you liked this Teenage Mutant Ninja Turtles Cupcakes tutorial, you might also like
See More Birthday and Event Ideas and Tutorials
Never Miss a Thing!
Join our newsletter to get new recipes, tips, tricks, and tutorials every week!