Say thank you to your hostess with these creative and unique hostess gift ideas.  Our Hostess Gift Guide is perfect for the holidays and any occasion.
Hostess Gift Guide
Never come to a Christmas gathering empty handed! Thank your Holiday Hostess with these fun, creative, and unique hostess gift ideas.
Our Hostess Gift Guide features the top 20 Hostess Gift Ideas for the season!
Hostess Gift Guide - 20 Hostess Gift Ideas
1.   A29® Moscow Mule 100 % Solid Pure Copper Unlined Mug
-  I LOVE hammered copper! Take these copper mugs
to your hostess to serve up some festive holiday drinks!
2.  Everyday Kitchen Basic, Damask Printed Oven Mitt and Potholder Gift Set
-  With all the cooking and baking going on during the holidays, what hostess doesn't need an extra pair of oven mitts
?!
3.  VonShef Cheese Tray and Dipping Accessories with Slate Tray for Cheese with Knives and Dishes
- A pretty slate cheese tray
will make the appetizer table look fabulous.
4.  Hammered Salad Bowl with Server
-  Hammered copper again! Serve up salads with this beautiful hammered copper salad serving set
.
5.  Kikkerland Dapper 'Staches Drink Markers
- These fun mustache glass labels
are a great way to keep track of your drink, and make a great (and useful) party gift.  You can also bring some liquid chalkboard markers
to the get-together so people can write their names on their glass and it can be washed off later!
6.  bloom daily planners Planning System Tear Off To Do Pad - Teal Daily Planner To Do Pad 6" x 9"
- I'm obsessed with refrigerator notepads.  I have several on my fridge (and even more waiting to be used in my kitchen drawer...) They come in so many varieties, and for a Type-A, planning, hostess machine, you really can't go wrong with a checklist! Here are a few of my favorites: Planning System Tear Off To Do Pad
, Knock Knock This Week Note Pad
, Knock Knock What to Eat Pad
, and Chalkboard Style Magnetic Grocery List
.
7.  Rachael Ray Stoneware Serving Oval Platter
- A pretty serving tray
for delivering drinks, appetizers, or desserts. Also comes in red, orange, and purple.
8.  Personalized Cutting Board
- Prep food in style with a personalized cutting board
.  I think this would be a gorgeous rustic kitchen decoration display too.
9.  Baja Precious Quartetto: Rosemary, Basil, Lemon, Ginger
- Have you ever had herb-infused oils
? You need to. It's delicious.  You can even add some to a dish with a little grated parmesan and a fresh loaf of bread for a simple and tasty appetizer.
10.  5th Avenue Collection Glass and Stainless Sugar- Creamer Server Set
- Because coffee is the fuel that runs the holidays!
11. Red Holiday Burlap Wreath
- Bring a little holiday cheer to your hostess with this pretty red burlap holiday wreath
.
12.  R & M Holiday Classics 12 Piece Cookie Cutter Tub Set
- Fun cookie cutters
for holiday baking.
13.  Kay Dee Designs Café Express Collection Medallion Flour Sack Cotton Towels
- Being the hostess means extra clean up! Help her out with these cute and festive flour sack towels
.
14.  iKitchenPlus Chilled Dipping Bowls Stainless Steel & Crystal Clear Acrylic Ice Container, Lid Included
- This chilled bowl
keeps the food inside at a nice cool temperature for the whole party! Perfect for cold dips and salads.
15.  Sipping Stones
- Sipping Stones
are made to keep your drink cool AND keep it from getting watered down.
16.  5th Avenue Collection Porcelain Mug Vibrant Colored ,16 Ounce Set of 4
- I own these jumbo coffee cups
, and let me just tell you, they are fabulous.  It's like a bowl of coffee.  Just the right amount.
17.  VonShef Stainless Steel Butter Dish with Lid
- A pretty butter dish
can add elegance to the dinner table.
18.  Classic Bamboo Personalized 4x6 Recipe Card Box
- Give her a place to keep all of her tasty recipes with this personalized recipe box
.
19.  Cozy Throw Blanket
- A cozy throw blanket
will help her wind down after the party (especially if you pair it with those jumbo mugs
... and some hot cocoa!)
20.  Chef Buddy 3-Tier Cupcake Dessert Stand
- A pretty hors d'oeuvres and dessert stand
to display all her amazing, delicious hard work.
Did you like these Hostess Gift Guide Ideas? Find more on my Gift Ideas and Christmas boards on Pinterest!
If you liked these Hostess Gift Guide ideas, you might also like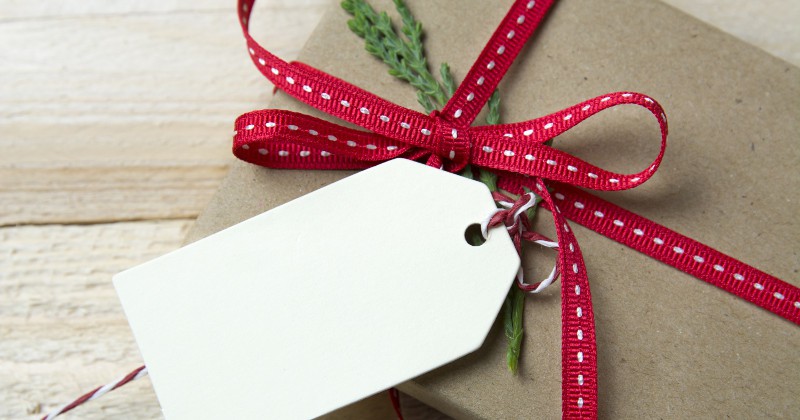 $25 and Under Gift Guide for Everyone
See More Gift Ideas
See More Christmas Ideas and Recipes
Never Miss a Thing!
Join our newsletter to get new recipes, tips, tricks, and tutorials every week!
Photo credits: DollarPhotoClub.com and Amazon.com