These super easy oven-baked Jicama fries that are seasoned and drizzled in olive oil are a nutritious, low carb snack or side that the whole family will love.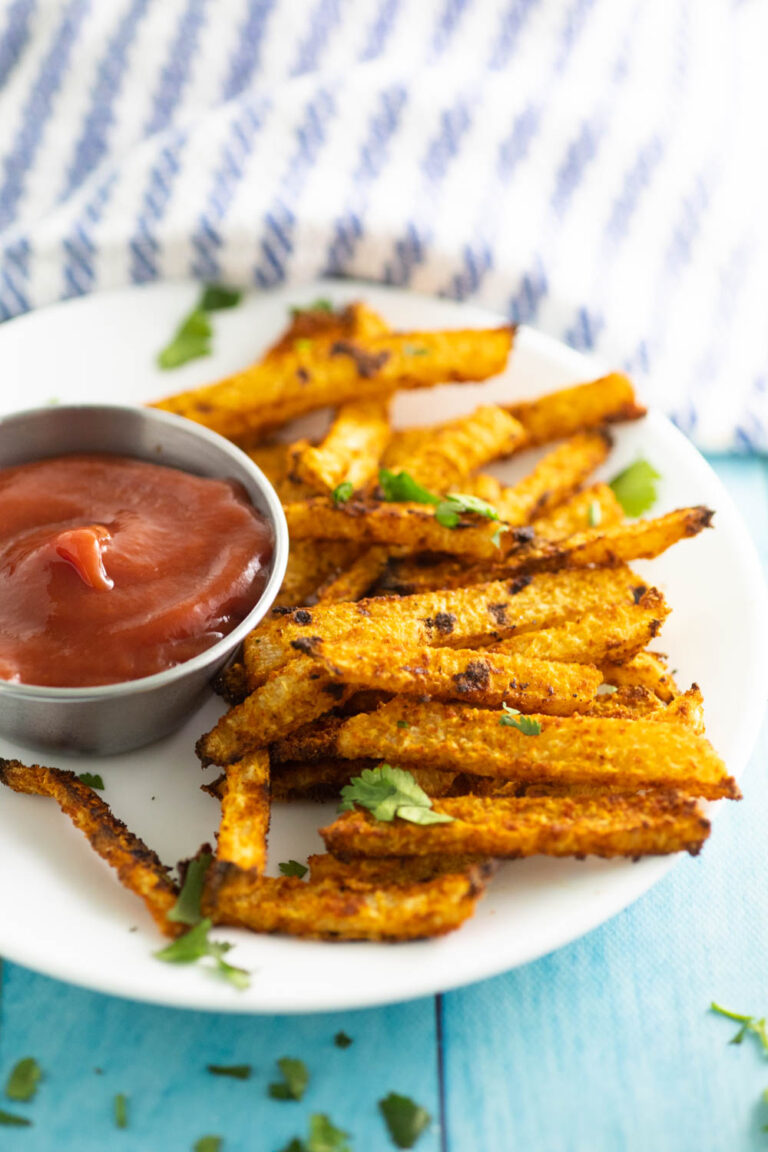 Jicama Fries
Jicama Fries are a wonderful alternative to classic French fries. They're perfect for if you're on a low-carb or keto diet, or if you're just looking to add a little variety and extra nutrition to your meals.
These jicama fries are seasoned, drizzled with olive oil, and baked to perfection. Serve as a healthy snack or side dish to your favorite meal. The whole family will love these! (and you can even prepare them in advance and freeze them for those busy weeknights!)
What are Jicama Fries Made of?
Very simple ingredients! This recipe is just jicama, olive oil, and some seasoning.
Does Jicama Taste Like Potatoes?
Yes and no. This Mexican turnip does have the mild starchy qualities of a potato, but it also has some sweetness like an apple and some firm crispness like a water chestnut.
Why Eat Jicama Fries Instead of Potato Fries?
Potatoes fries aren't necessarily bad for you, especially in moderation. You can even bake potato fries so there's less oil.
But it's good to have some variety in your diet. Jicama is lower in calories, loaded with fiber, dense in nutrients, low glycemic index and good for blood sugar regulation, and is low in net carbs, sugar, and fat.
This makes jicama a great addition to every diet!
How to Peel Jicama
I don't recommend using a potato peeler to peel a jicama as the skin is much too thick.
Instead, turn the jicama on its side and carefully cut off both ends. Then, using a sharp paring knife, cut the remaining skin off, leaving as much flesh as possible.
I have also seen people grabbing a lose end from when they cut the tops off and pulling the skin off that way, but for me it doesn't come off as cleanly. While, I'd normally think that's fine, jicama skin is toxic (the flesh is edible), so I'd rather be very careful I didn't miss any.
How to Cut Jicama for Jicama Fries
Basically, after you peel the skin off, you're going to slice the jicama, and then make vertical cuts to make matchsticks. The thickness of your slices and cuts determine the thickness of your fries. Very thick fries will need a longer cook time and will be difficult to get soft in the middle.
What to Serve with Jicama Fries
You can eat jicama fries as a snack or serve them as you would with French fries or any side dish. Serve them next to burgers, pork chops, grilled chicken, fried fish, you name it!
I love to serve jicama fries with dipping sauce. Here are some suggestions:
Sriracha aioli - I've included a super quick 3 ingredient recipe for this below.
Ketchup - a classic for a reason
Sriracha ketchup - mix a little sriracha in your ketchup to taste
Ranch - plain ranch is great, and I love to mix a little sriracha into it as well!
Sour cream
Any dip recipe - dip your jicama fries in any dip to add a little more nutrition that traditional chips or crackers would.
Can You Freeze Jicama Fries?
Yes! Freeze jicama fries before they're baked.
Prepare the fries to step 6 in the recipe (don't bake!).
Place the baking sheet with jicama fries in the freezer for about 1-2 hours. Then transfer to a freezer bag for up to 3 months.
Reheat in the oven at 425°F for about 5 to 10 minutes longer than the cook-time specified in the recipe.
Freezing the jicama will change the texture a little bit. They will become slightly softer, which in the world of fries isn't necessarily a bad thing.
If you want to crisp them up a bit you can convection bake them (use the time specified in the recipe as a guide and watch to make sure they don't burn) or air fry them (I like to air fry frozen foods at 370°F for about 8 minutes at a time. Give it a flip and check at 8 minutes, and add 5-8 more minutes if necessary).
More Veggie Recipes You'll Love
Jicama Fries Video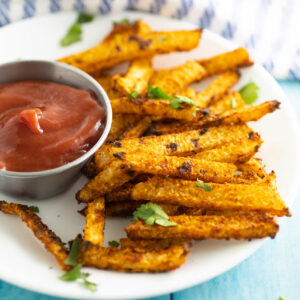 Jicama Fries
These super easy oven-baked Jicama fries that are seasoned and drizzled in olive oil are a nutritious, low carb snack or side that the whole family will love.
Print
Pin
Rate
Ingredients
Quick Sriracha Aioli
⅓

cup

mayo

2

tablespoons

sriracha

Juice from 1 lime

(about 2 tablespoons)
Jicama Fries
1

medium jicama

1

tablespoon

olive oil

½

teaspoon

garlic powder

½

teaspoon

onion powder

¼

teaspoon

smoked paprika

¼

teaspoon

chili powder

½

teaspoon

salt

or to taste

Pinch of cayenne
Instructions
For the Sriracha aioli: Combine all ingredients in a bowl, stir to combine. Cover and refrigerate until ready to serve.

Bring a large pot of water to a boil.

While water is coming to a boil, peel jicama and cut into ¼ inch matchsticks. Add jicama to boiling water and cook for 10 minutes, until jicama is slightly less crunchy. Drain in a colander.

Transfer jicama pieces to a large bowl. Toss with olive oil and spices.

Place in a single layer on a lined baking sheet.

Bake at 425°F for 30-45 minutes, or until cooked through and crispy on the outside, turning halfway.
Notes
Nutrition facts are for ¼ of the fries with no dip.
Jicama is slightly firmer than potatoes, even when cooked, so don't be surprised if their texture isn't quite as soft.
Add grated Parmesan or fresh parsley to the seasoning mix for a little extra flavor.
Store: Store leftovers in an airtight container in the refrigerator for up to 3 to 5 days. Reheat in the oven, skillet, microwave, or air fryer.
Freezer Directions: Prepare jicama fries, but don't bake. Lay in a single layer on a baking sheet, and place in freezer for 1 to 2 hours. Transfer to a freezer bag and freezer for up to 3 months. When ready to use, bake from frozen in the oven (increase cook time by about 5-10 minutes), convection oven (same instructions as traditional oven, but watch closely at the end), or air fryer (370

°F for 8 minutes, check and toss gently. Heat for 3-8 more minutes, if necessary depending on doneness)

. 
Nutrition
Serving:
1
serving
|
Calories:
96
kcal
|
Carbohydrates:
15
g
|
Protein:
1
g
|
Fat:
4
g
|
Saturated Fat:
1
g
|
Sodium:
298
mg
|
Potassium:
260
mg
|
Fiber:
8
g
|
Sugar:
3
g
|
Vitamin A:
158
IU
|
Vitamin C:
33
mg
|
Calcium:
22
mg
|
Iron:
1
mg
Did you make this recipe?
I love seeing your creations. Snap a quick photo and mention @TheGraciousWife or tag #thegraciouswife on Instagram! Leave a STAR rating below!
Never Miss a Thing!
Join our newsletter to get new recipes, tips, tricks, and tutorials every week!