36 delicious and easy Crockpot Side Dishes give you the chance to focus on dinner while all the yummy side dishes cook themselves in the slow cooker.
Crockpot Side Dishes
Crockpot Side Dishes are the best because it means that you can totally forget about what should go with dinner and turn your focus just on the actual dinner.
These 36 Crockpot Side Dishes cover all your bases, from beans and potatoes to rice and pasta, and of course, your veggies!  Click on the corresponding link to view the full Crockpot Side Dish recipe!
Whick Crockpot Side Dishes recipe is YOUR favorite? Let me know in the comments!
For more Crockpot recipes all month long, be sure check out our Crocktober Main Page!
36 Crockpot Side Dishes Recipes
1.  Slow Cooker Greek Rice with Red Bell Pepper, Feta, and Kalamata Olives from Kalyn's Kitchen
2.  Best Baked Beans from 100 Directions
3.  Crockpot Broccoli and Rice Casserole from Newton Custom Interiors
4.  The Cheesiest Crockpot Mac and Cheese from The Gracious Wife
5.  Slow Cooker Cauliflower Mash from The Greenbacks Gal
6.  Slow Cooker Rice with Dried Mushrooms, Parmesan, and Herbs from Kalyn's Kitchen
7.  Crockpot Cheesy Hashbrown Casserole from The Gracious Wife
8.  Crockpot Cauliflower and Cheese from What's Cooking Love
9.  Slow Cooker Applesauce from The Gracious Wife
10.  Slow Cooker Glazed Carrots from Who Needs a Cape
11.  Crockpot Bacon Green Beans from Julies Eats & Treats
12.  Crockpot Baked Potatoes from Our Table for Seven
13.  Slow Cooker Traditional Tejano Beans from The Food Charlatan
14.  Crockpot Stuffing from The Gracious Wife
15.  Green Chile and Cheese Rice from Kalyn's Kitchen
16.  Slow Cooker Green Bean Casserole from The Magical Slow Cooker
17.  Make Ahead Irish Potato Casserole from Farm Fresh Feasts
18.  Slow Cooker Barbecue Beans from Lori's Culinary Creations
19.  Crockpot Caramelized Onions from The Gracious Wife
20.  Slow Cooker Sweet Potato Mash from Mama Likes to Cook
21.  Crockpot Corn Pudding from The Gracious Wife
22.  Simple Crockpot Ranch Potatoes from Moms with Crock Pots
23.  Crockpot Cheddar Creamed Corn from Julie's Eats & Treats
24.  Slow Cooker Cheese Grits from Call Me PMC
25.  Slow Cooker Mexican Corn on the Cob from Thirty Handmade Days
26.  Slow Cooker Cheesy Bacon Potatoes from Plain Chicken
27.  Slow Cooker Bacon Macaroni and Cheese from The Kitchen is My Playground
28.  Crockpot Southwest Cornbread from The Gracious Wife
29.  Slow Cooker Red Beans and Rice from The Weary Chef
30.  Easy Slow Cooker Pinto Beans from Pink Heels Pink Truck
31.  Slow Cooker Ranch Mushrooms from The Chunky Chef
32.  Slow Cooker Creamy Ranch Potatoes from The Recipe Critic
33.  Creamy Crock Pot Mac and Cheese from Glue Sticks and Gumdrops
34.  Crock Pot Sweet Potatoes with a Hint of Orange from Crock-Pot Ladies
35.  Slow Cooker Sausage Green Beans and Potatoes from Six Dollar Family
36.  Slow Cooker Cheesy Scalloped Potatoes from Spend with Pennies
Did you like these Crockpot Side Dishes Recipes? Find more on my Salads & Side Dishes and Crockpot boards on Pinterest!
If you liked these Crockpot Side Dishes recipes, you might also like
23 Amazing Corn Side Dishes Recipes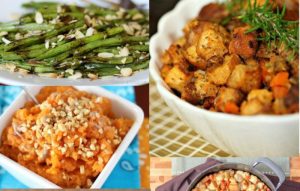 Thanksgiving Side Dish Recipes
Never Miss a Thing!
Join our newsletter to get new recipes, tips, tricks, and tutorials every week!