An epic list of over 70 Thanksgiving side dishes. Who says turkey gets to be the star?! These side dish recipes are exactly what your table needs for a delicious, well-rounded feast.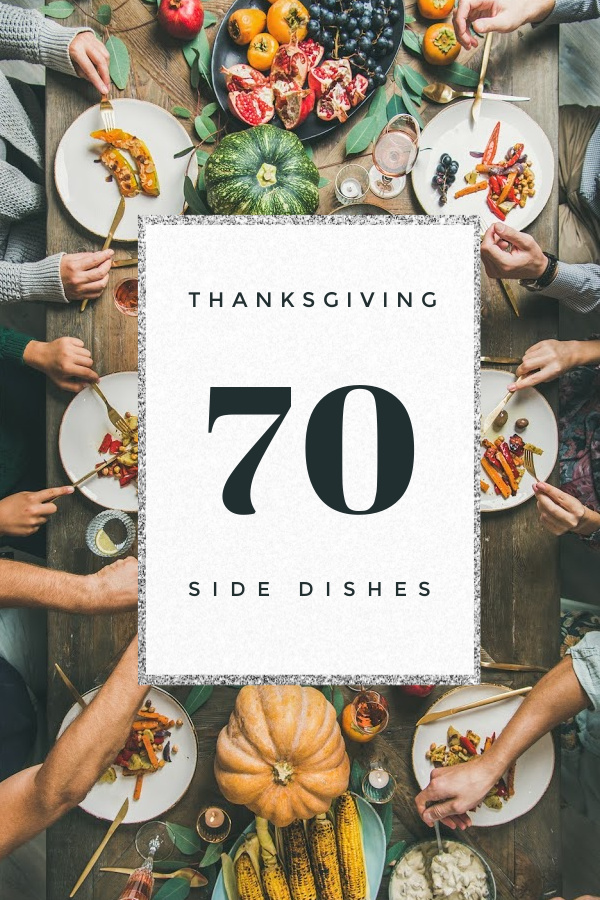 70 Thanksiving Side Dishes
In preparing for the upcoming holidays, half the battle is the menu. Am I right? With family and friends excited for a feast, you need a meal that will please!
While the turkey is good, let's be honest. The sides are the real heroes of Thanksgiving. Great sides are what makes Thanksgiving delicious.
So, I've compiled an epic list of sides for Thanksgiving including stuffings, vegetables, potatoes, breads, salads, soups, and more. The recipes range from traditional classics to modern favorites, and they will all make your Thanksgiving table special.
Looking for something specific? Just use the guide below to skip straight to it!
Classic Thanksgiving Side Dishes
(A.K.A Spoon Bread) One of my family's all-time favorite Thanksgiving sides and one we make every holiday. This simple casserole is a mix of cornbread, sweet corn, and cheesy goodness.
This sauce has made a cranberry sauce lover out of even the biggest of haters. Tart cranberries cooked with apple juice and maple syrup to add just the right mount of sweetness and bite of Fall flavors.
The Cheesiest Crockpot Mac and Cheese
My kids have a special name for this dish. The BEST mac and cheese. And they ask for it by that name too 😂. Super quick to prep, super delicious to eat, and it frees up those stove burners for the rest of your cooking
In our house, the gravy is more important than the turkey itself. Our family prefers this creamy white gravy made using turkey dripping and a shake of white pepper for just the right flavor.
More of a dessert than a salad, this dish contains some unique ingredients that you would never dream of mixing together. But whip them up in this festive dish, and everyone will be begging for seconds.
A simple classic that is easy to whip up and make ahead. We love making these tangy, creamy deviled eggs for basically every party, holiday, and gathering because they're so easy to make and everyone loves them!
Old Fashioned Cranberry Salad
Make this Old-Fashioned Cranberry Salad, also known as a Cranberry JELLO mold for a Thanksgiving side dish this year. We use raspberry Jello, crushed pineapple, whole berry cranberry sauce, and nuts to make this traditional holiday recipe.
Sweet Potato Mac and Cheese
This sweet potato variation makes mac and cheese just a little bit healthier.
Potato Thanksgiving Side Dishes
These mashed potatoes are super simple to make with just a couple of ingredients but have so much creamy texture and garlic-herb flavor, from the Boursin cheese that's mashed right in.
Garlic Herb Roasted Potatoes and Green Beans
Serve your veggies and potatoes in the same dish! Crispy and buttery with garlic and fresh herbs, these warm potatoes and green beans are both gorgeous AND delicious on your Thanksgiving table!
Southern Sweet Potato Casserole
So good that it's like eating candy! Creamy sweet potatoes topped with a crunchy, sweet brown sugar and pecan topping. I could never have a Thanksgiving without these!
Tender, creamy, warm potatoes seasoned with ranch mix and topped with lots of gooey cheese. These are easy to make ahead, and you can even reheat them right in the microwave.
These twice baked potatoes are twice as tangy, twice as creamy, and twice as cheesy as your average baked potato. They make a delicious and elegant addition to a Thanksgiving feast.
Classic scalloped potatoes take on a little extra tangy flavor. Creamy, warm sliced potatoes are topped with a crunchy, butter Parmesan topping.
Crockpot Cheesy Hashbrown Casserole
You had me at cheese. These potatoes are cheesy and perfectly seasoned and cooked right in the oven, which is perfect for Thanksgiving since the oven is busy with the turkey.
These are buttery, crispy, salty perfection. They're so good, you won't want to share. It's a great alternative to mashed potatoes on Thanksgiving.
My grandma used to make these every Thanksgiving, and they were a delicacy worth fighting over. They are perfectly baked with caramelized brown sugar, and you will savor every bite.
Slow Cooker Scalloped Potatoes
These scalloped potatoes make life easier by cooking all in the Crockpot! Perfectly creamy and cheesy with a flavorful herb cream sauce.
Make Ahead Mashed Potatoes
If you'd like to save time and prep ahead you'll love this Make Ahead Mashed Potatoes recipe!
Oven Roasted Sweet Potatoes
A lightened up version of the Thanksgiving classic candied yams, these are healthier but just as yummy.
Loaded Mashed Potato Casserole
This loaded mashed potato casserole is a perfect make-ahead side dish for a holiday season and feeds an army! Everyone goes for seconds for this one.
New Potato Tian
Potato becomes the star of the show with this tasty new potato tian dish. Thin, starchy potato slices are mixed with savory aromatics, sprinkled with salty Pecorino cheese, and baked until bubbly. You won't have to worry about leftovers!
Stuffing and Dressing Thanksgiving Side Dishes
This is my grandma's all-time best, most amazing recipe for stuffing that has turned stuffing haters into raving fans. We serve this every year, and I love mine with a little bit of creamy turkey gravy.
A southern classic with homemade skillet cornbread and perfectly seasoned with onions, celery, and sage. This is a must on every Thanksgiving table.
I took my grandma's famous stuffing recipe and converted it a slow cooker version to free up the oven. If you have a favorite stuffing recipe from your own family, I also tell you how to turn any stuffing recipe into crockpot stuffing.
Spinach Stuffing Balls
Spinach Stuffing Balls are a great make ahead side dish for your holiday dinner. Warm them up while the turkey is being carved then enjoy!
Chorizo Stuffing with Plantains
Chorizo stuffing with plantains is a smokey, slightly spicy, sweet and savory Thanksgiving stuffing recipe that the family will love!
Vegan Stuffing with Mushrooms
This Vegan Mushroom Stuffing is a definite must for your Thanksgiving table! Traditional bread stuffing with mushrooms, celery, and lots of herbs. Soft, moist, and fluffy.
Vegetable Thanksgiving Side Dishes
Shallots sautéed in butter and quickly steamed with green beans makes a quick and easy stove-top side dish that's elegant, flavorful, and most of all delicious.
This is probably my favorite corn dish of all time because it's so easy to make and so rich, creamy, and buttery with only simple ingredients
Lots of fresh vegetables cooked in butter with crispy crumbled bacon. Succotash is a classic Thanksgiving side in the Northwest, but it's so good it should be a classic all over the US.
If you love buttery corn, you'll love this creamy, cheesy version even better. Seasoned with onions and sweet peppers and baked in a creamy, cheesy sauce, this corn will have you coming back for seconds.
Salty bacon, creamy feta, and sweet peas combine to make the ultimate side dish. A quick and easy twist on a timeless classic.
The great part about this casserole is that it works with any of your favorite vegetables. Fresh, frozen, leftover, you name it. Personalize and pack this casserole with all your favorites or whatever you have left in your fridge. It's always delicious, and a great crowd pleaser at Thanksgiving.
Creamy Parsnip Puree
Sweet and nutty with a creamy texture parsnip pureé makes a terrific easy side. A delicious unique side to serve in place of mashed potatoes.
Butter Smothered Green Beans and Cashews
Green beans smothered in butter and fresh herbs then tossed with crunchy cashews. A delicious way to enjoy garden fresh green beans and the perfect side dish for Thanksgiving.
Oven Roasted Rutabaga
A delicious and healthy low carb keto side dish – this oven roasted rutabaga recipe is ready in 20 minutes and can be enjoyed with the meat or fish main dishes of your choice.
Roasted Fennel
Simple and healthy, fennel is a great way to celebrate the Thanksgiving holiday!
Gluten Free Green Bean Casserole
This Gluten Free Green Bean Casserole will be the star of your Thanksgiving Day feast. It's full of flavor due to the special sherry mushrooms and homemade crispy shallots. Everyone will be begging for seconds!
Rosemary Roasted Beets and Carrots
These Rosemary Roasted Beets and Carrots are the perfect addition to your Thanksgiving meal! Packed with aromatic flavor and nutrients, this simple dish is perfect for Fall!
Instant Pot Brussels Sprouts with Bacon
This recipe is so easy to make and you only need some simple ingredients, like bone broth, onion, and garlic. Of course, bacon and Brussels sprouts and that is it!
Instant Pot Garlic and Herb Carrots
Garlic & Herb Carrots are cooked to perfection in the Instant Pot or Pressure Cooker. Sautéed with lots of butter, garlic and herbs, they make a perfect side dish!
Shaved Brussels Sprouts with Bacon
Everything is better with bacon and these shaved Brussels sprouts with bacon are no different. It's an easy side dish that's perfect for the holidays.
Roasted Fuyu Persimmon with Pear, Radish, and Brussels Sprouts
Roasted fuyu persimmons, pear, and brussels sprouts make a colorful sweet and savory side dish. Easy to make and addicting to eat.
Braised Red Cabbage
Braised Red Cabbage is a favorite easy, tasty traditional side dish! It's perfect for Thanksgiving. Cabbage, apples and spices all mingle together in this vibrant recipe.
Mashed Rutabaga
Mashed Rutabaga is a great side dish recipe for holiday feasts. A rutabaga carrot mash is flavorful and make creamy with the addition of warmed cream and butter!
Broccoli Cheese Casserole
Broccoli Cheese Casserole is one of the best side dishes ever created. It's a comforting, cheesy, and easily made with broccoli, cheese sauce, and buttery Panko topping.
Pumpkin and Squash Thanksgiving Side Dishes
Roasted Butternut Squash
Butternut squash seasoned with fresh rosemary and ground cinnamon, roasted to perfection - makes a great Thanksgiving side dish. It's combined with sweet and tart dried cranberries, crunchy fragrant toasted pecans, and salty flavorful feta cheese.
Acorn Squash with Maple Almond Butter
It's the perfect combination of sweet and savory! This Roasted Acorn Squash recipe with Maple Almond Butter drizzled on top is an absolutely lovely addition to any holiday dinner. As an added bonus, it's Paleo and Gluten friendly.
Savory Apple Butternut Squash Casserole
This Thanksgiving side dish is not only pretty but it's healthy too! Serve your guests this comforting side made with all the familiar flavors of Fall.
Butternut Squash Barley Risotto
Take your dinner to the next level with this comforting and healthy butternut squash barley risotto. The nutty flavor of the barley will shine among the smooth parmesan and white wine.
Maple Roasted Acorn Squash Slices
Maple Roasted Acorn Squash packs a lot of flavor with little effort. This winter squash is the perfect side dish for Thanksgiving!
Buttermilk Pumpkin Mashed Potatoes
Just 7 ingredients and 30 minutes is all you need to whip up these festive and flavorful mashed potatoes. Right at home on the Thanksgiving table, these pumpkin mashed potatoes are a great addition to any fall or winter meal as well.
Vegan Stuffed Butternut Squash
This roasted and stuffed butternut squash is so easy and makes the perfect thanksgiving side for all to enjoy.
Hasselback Butternut Squash
Beautify your holiday table with Hasselback Butternut Squash!
Savory Pumpkin Casserole
Savory Pumpkin Casserole is made flavorful with aromatic herbs. It's easy to make and readily done in just 35 minutes. This delicious pumpkin side dish pairs well with your meaty mains.
Salad Thanksgiving Side Dishes
A salad that's more of a dessert than anything resembling an actual salad. This dish is loaded up with fresh, tart apples, candy bar pieces, gooey caramel and a creamy "dressing." Delicious, sweet, and festive!
This southern classic is fresh, super easy to make, and should be served with everything. Tossed carrots and shredded carrots are with a creamy, tangy dressing.
Fall Cobb Salad
This Fall Cobb Salad is packed with the fun flavors and textures of the season. The salad is finished off with a rosemary and apple cider vinegar salad dressing.
Beetroot and Feta Salad
You'll love this refreshing beetroot and feta cheese salad! A delightful bright and chilled salad pairs wonderfully with your Thanksgiving entree.
Black Lentil Pomegranate Salad
This Black Lentil Pomegranate Salad has all the makings of a wonderfully festive dish. A base of black lentils is slathered in a creamy lemon tahini dressing, and is a perfect counterpoint to tart, juicy pomegranate seeds and toasted walnuts.
Spinach Apple Salad
This Spinach Apple Salad is healthy and perfect for Fall! This vegetarian salad is packed with apples, feta, walnuts, dried cranberries and red onion for a delicious combo that works great as a main or side dish.
Lacinato Kale Salad
perfect holiday salad recipe, this lacinato kale salad with butternut squash is healthy, sweet, crunchy, and pairs nicely with almost any holiday main dish.
Fall Harvest Salad
Light and healthy vegan fall harvest salad is as satisfying as it is nutritious: crunchy kale paired with sweet pumpkin, tart Brussels sprouts, crisp apples and pomegranate seeds all merged together with delicious homemade maple-mustard dressing. Perfect Thanksgiving harvest salad that everyone will love!
Bread Thanksgiving Side Dishes
A southern savory classic, made quickly and simply in a cast iron skillet with plenty of browned butter. It has a perfect golden crispy crust.
Fluffy, buttery, sky-high biscuits that are easy to make or freeze ahead and go perfectly with butter and cranberry sauce, right alongside your turkey.
These biscuits are cheesy, warm, and fluffy and topped with a buttery garlic sauce. They're super simple to make without rolling out dough, and you can prep and freeze ahead of time, so there's less to do on the big day!
This traditional cornbread gets its sweetness from maple syrup, adding a little extra Fall festiveness to each bite.
Southern Parker House Yeast Rolls
These homemade yeast rolls are just as buttery, soft, and delicious as the pans of Sister Schubert's Parker House Style yeast rolls you buy at the store. They even have that nostalgic smell as they bake. Every southerner will want this recipe!
Gluten Free Dinner Rolls
These Gluten Free Dinner Rolls are the soft, yeasty rolls that you've been craving. They've got a wonderful doughy texture like Parker House Rolls and are easy to make!
Soup Thanksgiving Side Dishes
Creamy sweet soup, with just a touch spicy is made with roasted butternut squash. It's pretty and goes perfectly with the other festive Fall dishes served at Thanksgiving.
This spicy, Tex-Mex pumpkin soup is not what you'd expect in a traditional pumpkin soup, but it IS delicious. It's packed with bold flavors and creamy pumpkin, and it's ridiculously easy to make with only 5 ingredients.
A classic soup with sweet corn in a creamy, cheesy broth. This traditional recipe can easily be made ahead and reheated, and is always a crowd-pleaser.
Roasted Golden Beet and Delicata Squash Soup
Golden Beet and Delicata Squash make a delightful pairing of flavors and nutrient-dense health benefits to celebrate Thanksgiving with a smile. This scrumptious soup is dairy-free, vegan, and paleo.
Now, if you're looking for the absolute best, juiciest turkey recipe, you can find that here.
And you can find all of my Thanksgiving inspiration here on the blog or on my Thanksgiving Inspiration board on Pinterest!