These easy-to-make Corn Fritters are crispy and golden on the outside and soft and perfectly seasoned and warm on the inside with juicy bursts of fresh sweet corn.
Corn Fritters
Turn fresh summer sweet corn into these perfectly crisp corn fritters is one of the fastest, easiest, cheapest, AND yummiest ways to turn corn into a full-blown, hearty, comfort food dinner.
Corn Fritters are both an amazing meal and side dish. They're golden and crispy on the outside and soft and warm with fresh sweet corn on the inside.
They're extremely versatile in flavor, ridiculously easy to make, and budget friendly.
What Are Corn Fritters?
Corn fritters are little fried dough cakes, usually made with flour and cornmeal, with whole corn mixed in. Other seasonings and herbs are often incorporated for flavor. They can be deep fried or pan-fried.
They were originally a Native American cuisine, but have been adopted in the Southern United States as a snack staple.
What Kind of Corn Should I Use?
Fresh and cut off the cob, canned, or frozen (and thawed) whole kernel sweet corn are all acceptable. You'll need about 2 cups of whichever you decide to use.
How to Make Corn Fritters Crispy
The best corn fritters are the ones that are perfectly crispy on the outside with a soft warm center. Here are some tips for getting your fritters just right.
A batter that isn't too wet keeps the fritters crispier. Be sure if you're using frozen corn, it's thawed and patted dry, and canned corn is drained and patted dry.
Make sure the cooking oil is hot enough before cooking. If it's hot right when you put it in, the oil will crisp up the corn fritter. If the oil is too cool, the fritter will immediately absorb the oil and you'll end up with a soggy fritter. To test the oil, throw a pinch of flour into the oil. If it sizzles, it's hot enough for frying!
Serve right away. Fritters will be best and crispiest if they're served right after cooking, instead of sitting or being reheated. If you have to serve later or reheat, an air fryer or convection oven for reheating will give you the crispiest results.
What Kind of Oil Should I Use for Frying?
High smoke point oils are best for frying. The two I recommend and use most frequently are light olive oil and refined avocado oil.
How to Serve Corn Fritters
Corn fritters are delicious on their own, and also when you add some toppings for extra flavor such as sour cream and chives or homemade pico de gallo.
Corn fritters are light enough to be a side dish and hearty enough to be the main event.
As a side dish, you can serve them alongside nearly anything. This Cajun Baked Catfish or Grilled Maple Mustard Chicken are a couple of our family favorites.
As a main dish, corn fritters pair well with salads and light and bright flavors. Some easy suggestions are creamy coleslaw, baked vegetable tian, or dill pickle pasta salad.
Corn Fritter Variations
These corn fritters are fabulous as is, but sometimes it's fun to change things up. Here are some different flavor variations to consider.
Bacon - Add some cooked and crumbled bacon right into the batter because bacon makes everything better.
Peppers - Adjust the spice level by using different types of peppers. Use 2 tablespoons finely chopped bell pepper for no spice, or increase the spice level by using a seeded and chopped serrano or habanero.
Red pepper flakes or a dash of cayenne are more easy ways to add a little heat.
Cheese - Experiment with your favorite cheeses. Try Parmesan, Gouda, or gruyere, or go a little spicy with a shredded Pepper Jack.
Sauces - Serve your fritters with different sauces to change the flavors without changing the recipe. Try sour cream, remoulade, honey mustard, ranch, salsa, guacamole, or even pimento cheese.
More Corn Recipes You'll Love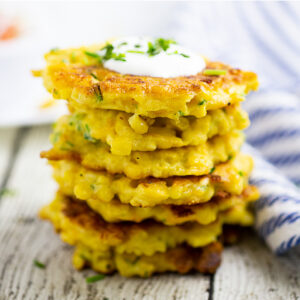 Corn Fritters
These easy-to-make Corn Fritters are crispy and golden on the outside and soft and perfectly seasoned and warm on the inside with juicy bursts of fresh sweet corn.
Print
Pin
Rate
Ingredients
2

cups

corn

(about 4 ears with the kernels removed)

½

cup

cornmeal

½

cup

flour

½

cup

shredded cheddar

1

jalapeno

seeded and chopped

¼

cup

fresh chives

½

cup

milk

2

large eggs

1

teaspoon

salt

½

teaspoon

black pepper

½

cup

oil

for frying
Instructions
Add all fritter ingredients except frying oil to a large mixing bowl. Stir to combine.

In a large skillet over medium heat, heat oil.

When oil is hot but not smoking, spoon about 2 tablespoons fritter mixture to form each fritter, cooking in batches of 2-3.

Flip each fritter after about 1½-2 minutes, when its golden brown (if it cooks quicker than that, reduce the heat). Repeat on the other side. Transfer cooked fritters to a paper towel- lined plate. Repeat for all remaining batter.

Serve immediately with sour cream and fresh chives.
Notes
Use a cookie scoop to scoop fritter batter for uniform size fritters.
Do not overcrowd the skillet or it will be too hard to flip them and the temperature will differ too much, causing them to be soggy. 
Salt your fritters just after they cook while they're still warm.
Corn Fritters are best served right away.
Storage: Store in the refrigerator for up to 3 to 4 days. 
Reheating: Reheat your fritters in a skillet, in the oven (or convection oven is even better), or in an air fryer until heated through and crisp. Microwave is not recommended for reheating because it will make the fritters soggy.
Freezer Directions: Cover and freeze for up to 3 months. Thaw in the refrigerator overnight before reheating. Or reheat in the air fryer or convection oven for about 8 minutes at 370

°F or until heated through and crisp on the outside.
Nutrition
Serving:
1
fritter
|
Calories:
144
kcal
|
Carbohydrates:
15
g
|
Protein:
4
g
|
Fat:
8
g
|
Saturated Fat:
2
g
|
Polyunsaturated Fat:
1
g
|
Monounsaturated Fat:
4
g
|
Trans Fat:
1
g
|
Cholesterol:
33
mg
|
Sodium:
240
mg
|
Potassium:
117
mg
|
Fiber:
1
g
|
Sugar:
2
g
|
Vitamin A:
214
IU
|
Vitamin C:
3
mg
|
Calcium:
53
mg
|
Iron:
1
mg
Did you make this recipe?
I love seeing your creations. Snap a quick photo and mention @TheGraciousWife or tag #thegraciouswife on Instagram! Leave a STAR rating below!
Never Miss a Thing!
Join our newsletter to get new recipes, tips, tricks, and tutorials every week!